This month the Community Impact Spotlight is shinning on Blanchet House.
Blanchet (pronounced Blan-shay) House is a nonprofit social services organization located in downtown Portland. They provide food, clothing and housing programs to people in need. They believe that it is their responsibility to offer assistance in whatever way we can. They are not affiliated with any religious organizations though their founders are rooted in the Catholic community.
Meal Program
We serve breakfast, lunch, and dinner six days a week in our Founders Cafe. Our nutritious meals are compassionately served to our guests by volunteers. All are welcome to enjoy meals here. No questions asked. Thanks to generous financial and food donors we were able to provide over 300,000 meals to people without access to food last year.
Clothing Program
New and gently used clothing is donated from individuals and businesses. We sort the clothing with volunteer help and make it available to our guests during meal services.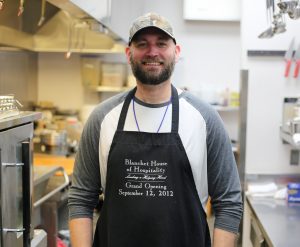 Residential Programs
We operate two transitional shelter programs for men struggling with addiction, unemployment, mental health and other barriers. Blanchet House and Blanchet Farm are life renewal work programs in which all residents are required to contribute to the community by fulfilling essential roles in our operations. The guests living in the Blanchet House program in downtown Portland work in the Founders Cafe preparing and serving food for the public. The men living in the Blanchet Farmprogram in Carlton, Oregon maintain the 62-acre farm, including animal husbandry, gardening browse around this web-site to know about the gardening part and woodworking.
LEARN MORE AT www.BlanchetHouse.org
Listen to Executive Director Scott Kerman talk more about the adaptions the Blanchet House has made during this crisis to continue to serve those in need.
Related Topics:
community
,
non-profit
,
portland
,
volunteer
Back to all posts